Senior Fitness – Training for Older Adults
Training for Older Adults at Brookdale Fitness Club
Embracing exercise later in life is one of the most powerful tools there is for defying the aging process. We take senior fitness seriously because it is serious – starting or continuing a strength and conditioning journey later in life has been scientifically proven to dramatically improve movement, muscle retention, bone strength and cardiovascular health. We understand that mobility results in stability. And stability and strength are the name of the game as we advance in age. We use free weights (dumbbells, kettlebells and bands) as well as machines to enhance our clients' ability to push, pull, bend, twist, press and to improve balance – all movement patterns that are crucial to enjoying your daily life.
We all know what exercise does for our bodies, but staying active also helps maintain a sharpness of mind, connections with others and passion for life.
With credentials including specialities in senior fitness and BoneFit (osteoporosis) we have the tools to help you defy the aging process. It is never too late to embrace strength and mobility!
To book a free consultation to discuss how we can help you, click here.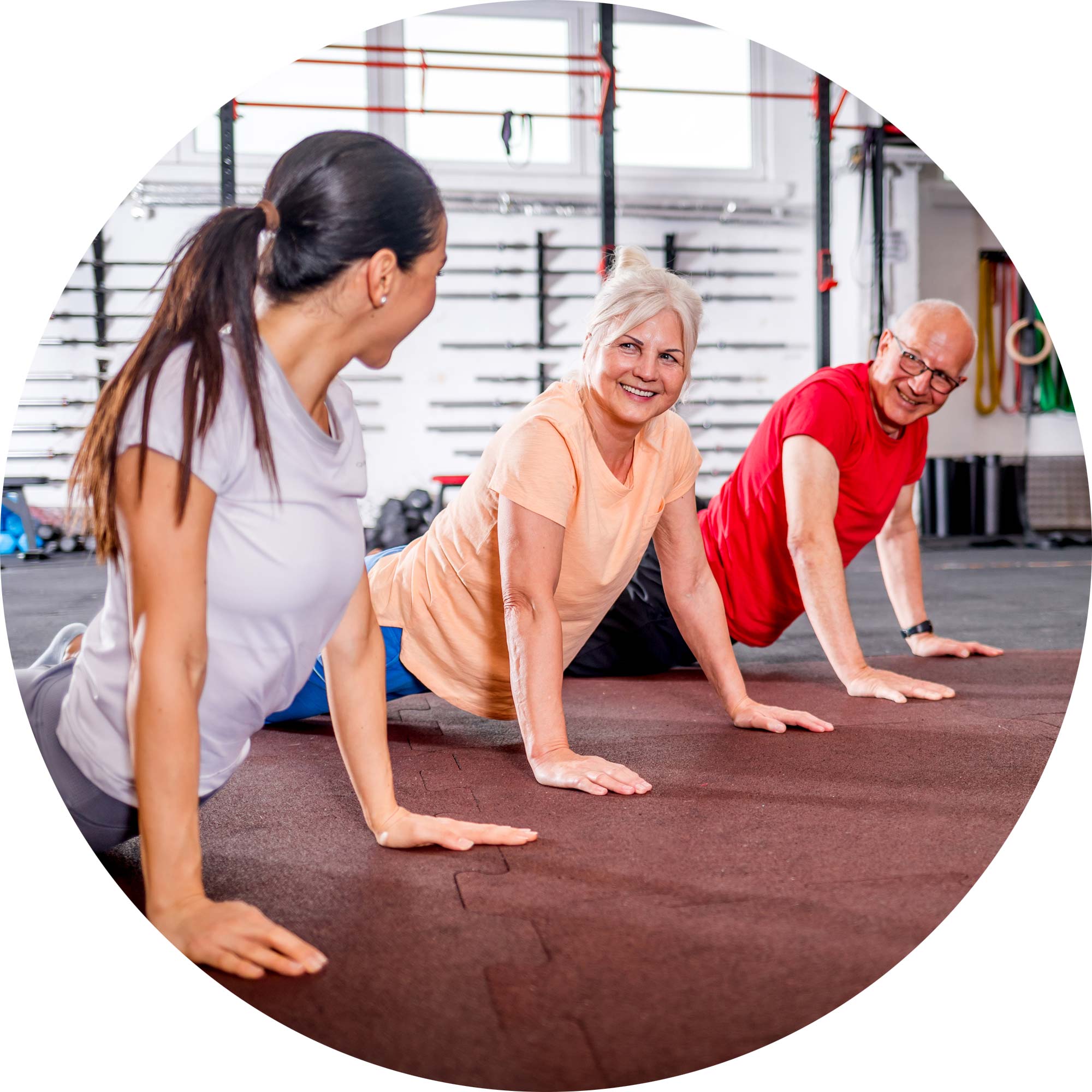 Testimonials
Wanting to maintain core strength and muscle mass as I age led me to Margaret and Anne. Margaret leads me through a challenging workout which she changes up to keep each workout interesting and fun.  Margarets skills and training in physical fitness along with a well equipped gym allow her to customize workouts to challenge me and accommodate my physical limitations.

Additionally, Anne's recorded classes allow me to keep in shape between sessions with Margaret.

Val I.
I am 75 and have been training with Anne for over 7 years. She has been amazing and the environment at the gym has been perfect for me….welcoming, friendly, personal and not at all intimidating. I had never been in a gym before in my life, but I felt comfortable there from Day 1 and it has only improved with time. I feel stronger, maybe even younger, now than I did at 65!

Training motivates me to stay active outside the gym and I am sure it is slowing down the progression of my osteoarthritis. Anne encourages me to push myself and never fails to find a work around for whatever joint is acting up (and there is inevitably at least one!). At the same time, she is always positive and her caring, compassionate approach makes a huge difference. She has been with me through numerous crises including the loss of my husband. Physical strength really does lead to emotional strength!!

I have learned that it is never too late to start exercising and now I don't want to stop! Truly a life changing place!!

Sandy M.